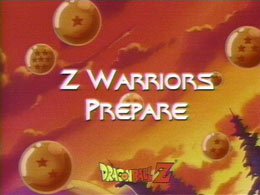 (Episode 109)
This episodio starts out with Yamcha punching around with his training partner Puar[Who happens to be a pussy, literally]. Puar is just there to encourage Yamcha and tell him he can do better. Yamcha then decides to go see what Vegeta is doing and goes over to his spaceship that he is training in ~Capsule 3~. To his surprise Vegeta is taking himself to the limits working at 300 times Earth's gravity. Yamcha thinks that is ridiculous and just peers on like a peeping tom. Also Bulma with absolutely nothing to do becomes bored. And Bulma's mother(who mysteriously can see where she is going without looking) comes in and talks to Bulma about the Z Warriors and some bimbo junk.
Meanwhile, Gohan, Piccolo, and Goku continue to train with each other. Gohan and Piccolo team up against Goku but their skills still can't compare. We then see Vegeta still training in 300xgravity with some machines that bounce ki blasts off of each other [Available for $62.95 at all K-Marts near you.] and apparently Vegeta is having a difficult time. The only thing that keeps him going is his will to be better than Goku. Later that night we see Yamcha sneaking into the spaceship to see how he does in the intense gravity that Vegeta is training under. Being such an understimating fool, he tries it out and can barely last 5 minutes as he struggles for his life to turn it off. [Practicing with Puar is sure paying off].
Later on Vegeta still continues to train, and then his training gets the best of him as he was forced to blow up the ship to save himself from the madness of his training. Bulma comes running out and realizes that Vegeta needs to rest and recover, but being that arrogant Vegeta we all have come so accustomed to, he refuses and then collapses. He is hooked up to some sort of Oxygen Machine as he lays in bed and begins dreaming. He dreams about Trunks and Goku being Super Saiyans when he is not, and about how his father told him he would be the strongest saiyan alive. Awoken with a new sense of pride and dignity Vegeta goes back to his training, but this time in 400xgravity [peh, childs play 8) ]. After this we see a little bit more of Goku, Piccolo and Gohan training and then this episode comes to and end leaving us with quite a few interesting previews of the next episode. [Piccolo dressed up like homie G]
The Good and the Bad: Blandorama!! I guess that is how I felt about the music in this episode, although some may disagree. It just sounded all bunched up and mixed together. But only at some parts of course. I thought Yamcha was loosing that surfer accent but it has somehow managed to sneak its way back into Yamcha's voicebox O_o. This episode mainly focused on Vegeta which was one of its Good parts, because we haven't really put any focus towards him. And the when Vegeta screamed "Father!!" it was great if not perfect as for the English version goes. The only real notable part in this episode was the part of his flashback, all the other stuff was just bouncing from one training scenario to the next.
Episode Flaws: Everything in this episode made perfect sense, pretty much flawless. That is all I have to say....ABOUT THAT! [Well unless the fact that we didn't really understand how Goku started bleeding while fighting with Piccolo]
Final Word: This wasn't really a notable episode, again except for that Vegeta flashback. The music, surfer accents, and just watching people train kind of got no where. But I did enjoy watching Yamcha struggle for his life and see gohan get knee'd in the stomach by his kind hearted father Goku. I wish Goku would of did more then that because Gohan can take it. He should of grabbed a thick tree and batted Gohan back and force with Piccolo. Again this is merely my opinion -_-.
Kaervak gives it a 3.5/5.
-Kaervak DBZN Staff